Let Them Eat Tweets: How the Right Rules in an Age of Extreme Inequality
Unabridged Audiobook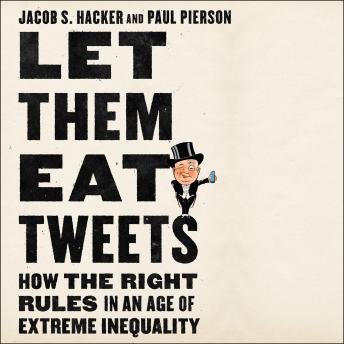 Duration:
8 hours 33 minutes
Summary:
Does the GOP represent 'forgotten' Americans? Or does it represent the superrich?

In Let Them Eat Tweets, bestselling political scientists Jacob S. Hacker and Paul Pierson offer a definitive answer: the Republican Party serves its plutocratic masters to a degree without precedent in modern global history. Conservative parties, by their nature, almost always side with the rich. But when faced with popular resistance, they usually make concessions, allowing some policies that benefit the working and middle classes. After all, how can a political party maintain power in a democracy if it serves only the interests of a narrow and wealthy slice of society?

Today's Republicans have shown the way, doubling down on a truly radical, elite-benefiting economic agenda while at the same time making increasingly incendiary racial and cultural appeals to their almost entirely white base. Telling a forty-year story, Hacker and Pierson demonstrate that since the early 1980s, when inequality started spiking, extreme tax cutting, union busting, and deregulation have gone hand in hand with extreme race-baiting, outrage stoking, and disinformation. As Hacker and Pierson argue, Trump isn't a break with the GOP's recent past. On the contrary, he embodies its tightening embrace of plutocracy and right-wing extremism.
Genres: