Let's Hear It for the Deaf Man
Unabridged Audiobook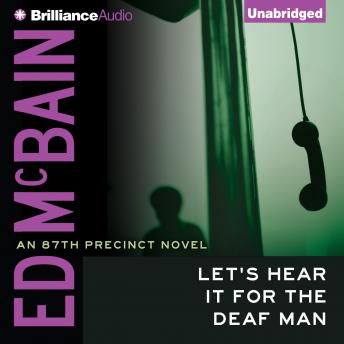 Duration:
6 hours 36 minutes
Summary:
"You'll have to speak a little louder," the voice said. "I'm a little hard of hearing."

Between a highly successful cat burglar and a hippie crucifixion, the 87th Precinct definitely doesn't need the Deaf Man showing up again—especially since his two previous appearances resulted in blackmail, murder, and general havoc. But at least they have him now...unless he had them first.

The Deaf Man can hardly contain his glee. Detective Steve Carella is about to inadvertently help him rob a bank. Each day, he mails Carella a picture to keep the game going. The first two are pictures of J. Edgar Hoover, while the next ones involve George Washington. All are clues, obviously. But how do they add up? And will the 87th Precinct find out before the Deaf Man has the last laugh?

A tough, taut, and hilarious mystery, Ed McBain's classic novel will captivate a new generation of police procedural fans.
Genres: