The Liberator Chronicles Volume 05
Unabridged Audiobook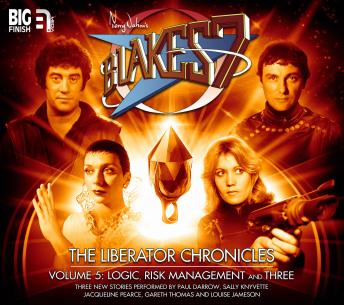 Duration:
3 hours 9 minutes
Summary:
Three enhanced audiobooks performed by the stars of the classic BBC television series. These stories are set during Series 2.

Logic by Simon Guerrier

Starring Louise Jameson as Pol and Paul Darrow as Avon, Sally Knyvette as Jenna, Jacqueline Pearce as Servalan

Pol is an ordinary woman living an ordinary life on Earth. So why are the crew of the Liberator so interested in her?

Risk Management by Una McCormack

Starring Gareth Thomas as Blake and Sally Knyvette as Jenna

When Blake and Jenna go to the aid of the planet Sutskar, they become embroiled in deception and betrayal.

Three by James Goss

Starring Jacqueline Pearce as Servalan and Joseph Kloska as Cullen

The renowned journalist Cullen has the scoop of a lifetime - an interview with Supreme Commander Servalan herself. It will be the greatest mistake of his life.
Genres: