Line of Fire
Unabridged Audiobook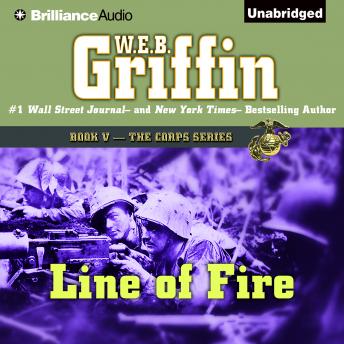 Duration:
17 hours 55 minutes
Summary:
While the bloody battle for control of the Solomons rages on, two Marines are trapped at a Coastwatcher station on tiny Buka Island. They are there to report on Japanese air activity, and their position is becoming increasingly perilous, even while their supplies are diminishing rapidly; if they are not rescued soon, they may never make it off the island.

On the orders of newly-commissioned Marine Brigadier General Fleming Pickering, a team is assembled: Captain Charles Galloway, still recuperating from his crash into the sea; Second Lieutenant Malcolm Pickering, Fleming's son and the owner of a dangerous daredevil streak; Lieutenant Ken "Killer" McCoy, China Marine and hardened veteran; Sergeant Thomas McCoy, his brother, a man of such temper and talent that he keeps getting busted back to PFC and then promoted back again; and Sergeant George Hart, the youngest detective ever on the St. Louis vice squad, tricked into military service and now determined to make his mark.

These men, and their colleagues, are about to attempt the impossible: to take the beleaguered Marines off Buka, under the very noses of the Japanese. They will have only one chance — so they'd better get it right...
Genres:
1 of 1 people found this review helpful.