Love at Mistletoe Inn: A December Wedding Story
Unabridged Audiobook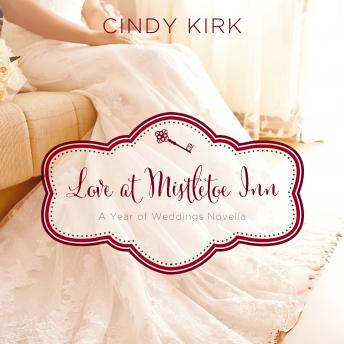 Duration:
2 hours 22 minutes
Summary:
They've helped orchestrate the perfect day for countless couples. Now twelve new couples will find themselves in the wedding spotlight in the second Year of Weddings novella collection.

Sometimes the road to happiness is paved with youthful mistakes.

Hope Prentiss didn't go to the Harmony High School senior prom. Instead, she and John Burke drove to Boise and got married. At eighteen. But when Hope panicked after saying "I do," the mail-order preacher assured her he just wouldn't send in the paperwork. No forms, no marriage, no problem. Right?

Well . . .

Now, ten years later, Hope discovers that her prom-night wedding counted—and, as fate would have it, the jilted John Burke has just ridden back into town. And he's staying with her Aunt Verna at the inn where she and Hope host weddings. Though Hope thinks she wants an annulment, a little time with John makes her think twice . . . and emotions between the more-or-less Mr. and Mrs. Burke reach a boiling point a soon as they get a moment alone.

With annulment out the window, Hope finds herself staring in the face of a divorce. But after spending some time with John and helping plan a Christmas wedding for a mystery couple, Hope begins to wonder if she really wants a divorce … or a real wedding of her own.
Genres: