Love Unexpected series (box set): Books 1-3
A free trial credit cannot be used on this title.
Unabridged Audiobook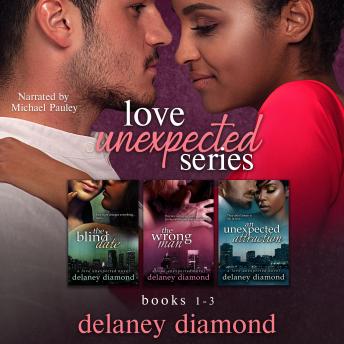 Duration:
14 hours 27 minutes
Summary:
The Love Unexpected series is an interracial romance series with sexy heroes and lovable heroines. Books one, two, and three are available in a box set for a limited time!

THE BLIND DATE: One night changes everything . . . again.

When Shawna's sister and brother-in-law set her up on a blind date, she has no idea it's with Ryan, with whom she'd spent a weekend she wishes she could forget. She reluctantly agrees to finish the date with him, but doing so leaves her vulnerable to his charms and the heat he ignited in her that very first night.

THE WRONG MAN: They have nothing in common. So why can't they stay away from each other?

Talia Jackson has always done what's right. Gone to the right schools, worn the right clothes, and married the right man. Seeking a boost when her marriage ends in divorce, she finds comfort in the arms of Tomas Molina, a man who makes her feel alive in a way she never has before. Then an unexpected result of their affair forces her to make a tough decision—stay in the world she's known all her life, or make a future with the man she's grown to love.

AN UNEXPECTED ATTRACTION: They didn't mean to fall in love…

Brenda Morrison has known Jay Santorini for years, but he's off limits. He's her friend's ex-husband, and except for one slip-up, they've always had a platonic relationship. But now that she's back in Atlanta, the smoldering attraction between them is much harder to resist.
Genres: