The Mackay MBA of Selling in The Real World
Unabridged Audiobook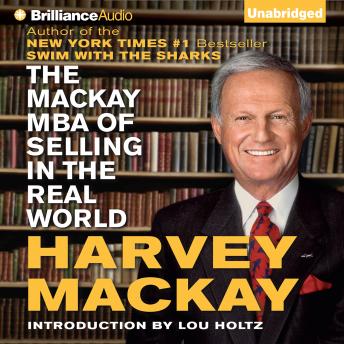 Duration:
8 hours 37 minutes
Summary:
Harvey Mackay is a legend — his bestsellers Swim with the Sharks Without Being Eaten Alive and Beware the Naked Man Who Offers You His Shirt were named by the New York Times as two of the most inspirational business books of all time.

Now he's back with the sum total of decades of sales know-how—teaching go-getters how to make the sale and hit the numbers, day in and day out. His advice is rooted in road-tested, real-world experiences and include tips on the Web, LinkedIn, and Facebook. As Mackay notes, everyone from "the five-year-old proprietor of a lemonade stand . . . to the GE sales maven pitching a 250-megawatt turbine dynamo" can learn from this book. From finding the right mentor to earning customer loyalty to overcoming rejection, his passion and knowledge come through in his energetic and irreverent style.

As a lifelong student of the sales game, he has spent decades collecting secrets, wisdom, and anecdotes. Each section of this book ends with a memorable Mackay's Moral such as:

•Failure is not falling down, but staying down.
•Big shots are just little shots who kept shooting.
•A salesperson tells, a good salesperson explains . . . and a great salesperson demonstrates.
•Keep your eye on the doughnut, not on the hole.
•Sound carries farther when others blow your horn.
•Be like the turtle: If he didn't stick his neck out, he wouldn't get anywhere at all.
•People begin to become successful the minute they decide to be.

Even in our fast-paced, technologically driven world, the human touch is still the most important tool a salesperson has. And there is no one better to show you how to be a high-energy, determined, creative sales dynamo than Harvey Mackay.
Genres: