Marijuana GROWING AND BUSINESS 2021: A Complete and Simple Guide to Growing and Selling Your Own Cannabis (3 BOOKS)
A free trial credit cannot be used on this title.
Abridged Audiobook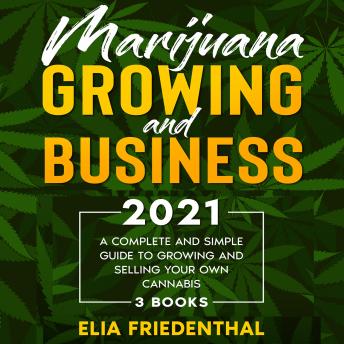 Duration:
14 hours 3 minutes
Summary:
Ready to start learning to grow marijuana?

How do I start a business selling Cannabis?

How do I market a Cannabis business?

This BOOK: GROWING AND BUSINESS: by ELIA FRIEDENTHAL teaches you how EASY it is to GROW WEED. The whole process is actually straightforward and surprisingly simple when you know what you need to do!

This book: Marijuana 2021: GROWING AND BUSINESS covers many popular cannabis cultivation and business topics, including:

BOOK 1: MARIJUANA GROWER'S HANDBOOK


- Drying
- Seeds
- Flowers
- Pinking
- How to Store Our Marijuana Step by Step?
- 5 Ways to Make the Most of Advanced Cannabis Seeds
- Install A Ventilation System
- The Right Temperature for An Optimal Cannabis Harvest

BOOK 2: MARIJUANA GUIDE: GROWING & BUSINESS


- Sativa
- Cannabis Indica
- Cannabis Ruderalis     
- THC And CBD
- How to Make Feminized Cannabis Seeds?        
- Photosynthesis and The Life Cycle of Marijuana
- Flowering
- Hydroponic Systems
- Life Cycle
- Cloning
- Collection
- The Harvest Step by Step

BOOK 3: MARIJUANA BUSINESS


- Legal Marijuana: The Legislation
- Coffee Shop, Smart Shop, Dispensaries
- How to Buy Wholesale Hemp?
- How to Open A Legal Cannabis Online Shop?
- Packaging, Advertising, and Marketing
- Opening A Dispensary
- How Much Does It Cost and How to Open A Cannabis Shop in The World?
- and much more!!

Start Growing Weed Today!
Genres: