The Masque of the Red Death
Unabridged Audiobook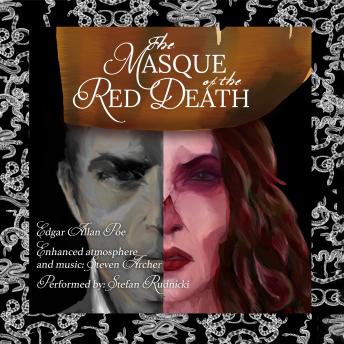 Duration:
1 hours 7 minutes
Summary:
A cinematic audiobook with a haunting score and enhanced atmosphere

Edgar Allan Poe wrote "The Masque of the Red Death" nearly 180 years ago, yet its narrative and characters continue to mystify and captivate. The short story is driven by Prince Prospero's attempt to evade the "Red Death," a fatal plague infecting his kingdom, by hiding in his abbey, where he indulges in pleasures and delights with other nobles. He soon finds out that no one can escape their end.

Steven Archer has recast the characters of "The Masque" and illuminated the narrative in a novel and perhaps more visceral light, while remaining true to the raw darkness and decadence of the tale. His modern take on the classic story brings it into our new infected world. Perhaps it was prescience that drove him to create the illustrations in 2018, only to have them see the plague-filled light of day in 2020. Even now in our enlightened and modern world, "Darkness and Decay and the Red Death holds illimitable dominion over all."

With a foreword by John Langan (The Wide Carnivorous Sky), this is an immersive audio-visual feast that breathes new life into this classic memento mori tale of disease, decadence, and inevitable mortality.

The audiobook features a conversation between Steven Archer and Stefan Rudnicki and includes an accompanying PDF of Steven Archer's original illustrations.
Genres: