A Massacre in Mexico: The True Story Behind the Missing 43 Students
Unabridged Audiobook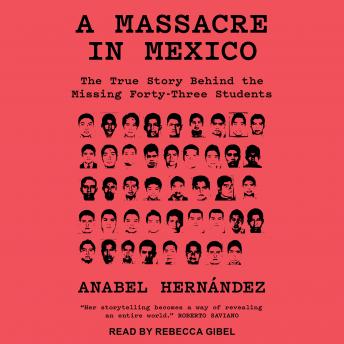 Duration:
12 hours 16 minutes
Summary:
The definitive account of the mass disappearance of forty-three Mexican students and the government that tried to cover it up

On September 26, 2014, forty-three male students from the Ayotzinapa Rural Teachers' College went missing in Iguala, Guerrero, Mexico. According to official reports, the students commandeered several buses to travel to Mexico City to commemorate the anniversary of the 1968 Tlatelolco Massacre. During the journey, local police intercepted the students and a confrontation ensued. By the morning, they had disappeared without a trace.

Hernández reconstructs almost minute-by-minute the events of those nights in late September 2014, giving us what is surely the most complete picture available: her sources are unparalleled, since she has secured access to internal government documents that have not been made public, and to video surveillance footage the government has tried to hide and destroy. Hernández demolishes the Mexican state's official version, which the Peña Nieto government cynically dubbed the 'historic truth.' State officials at all levels, from police and prosecutors to the upper echelons of the PRI administration, conspired to put together a fake case, concealing or manipulating evidence, and arresting and torturing dozens of 'suspects' who then obliged with full 'confessions' that matched the official lie.

In the wake of the students' disappearances, protestors in Mexico took up the slogan 'Fue el estado'-'It was the state.' Hernández's book is the one that gives most precision and credibility to the claim: by following the role of the various Mexican state agencies through the events in such remarkable detail, she allows us to see exactly which parts of the state are responsible for which component of this monumental crime.
Genres: