Master Key System
Unabridged Audiobook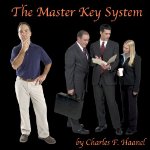 Duration:
10 hours 34 minutes
Summary:
In 1909 a deep secret was discovered. A secret that drove those that knew it to the furthest reaches of total success. Wealthy industrialists, politicians, and captains of industry flocked to the man that knew the secret. They paid him vast sums of money for it. They all enjoyed unparalleled success. They became the richest people of the time and they all agreed the secret would never be revealed to the public.

The first World War broke out in 1914. Those who knew the secret were protected. The Great Depression crippled the Nation in 1929. Those who knew the secret prospered.

The Catholic Church learned of the secret in 1933 and tried to stop the public from finding out what it was.

The "secret" can now be found in The Master Key System.
Genres:
1 of 1 people found this review helpful.

1 of 2 people found this review helpful.