The Ministry of Intercession
Unabridged Audiobook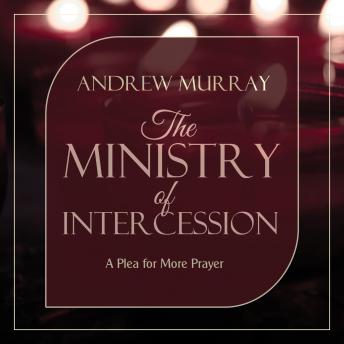 Duration:
6 hours 4 minutes
Summary:
If the answer to prayer is so positively promised in Scripture, why are there so many unanswered prayers today (often misinterpreted as a "no")? Scripture teaches us that answer to prayer depends upon certain conditions. Christ spoke of faith, of perseverance, of praying in His name, of praying in the will of God. But all these conditions were summed up in the one central statement: If ye abide in me and my words abide in you, ye shall ask what ye will, and it shall be done unto you. It becomes clear that the power to pray the effectual prayer of faith depends upon the life.



Let Andrew Murray show you what it means to live in Christ, and let his challenge for genuine intercessory prayer change your life – and the lives of those you are praying for.



About the Author

Andrew Murray (1828-1917) was a well-known South African writer, teacher, and pastor. More than 2 million copies of his books have been sold, and his name is mentioned among the other great leaders of the past such as Charles Spurgeon, T. Austin-Sparks, George Muller, D.L. Moody, and more.
Genres: