The Mirror of the Sea: Memories & Impressions
Unabridged Audiobook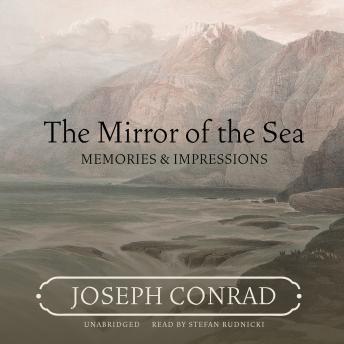 Duration:
6 hours 33 minutes
Summary:
First published in 1906, The Mirror of the Sea was the first of Joseph Conrad's two autobiographical memoirs. Discussing it, he called the book "a very intimate revelation...I have attempted here to lay bare with the unreserve of a last hour's confession the terms of my relation with the sea, which beginning mysteriously, like any great passion the inscrutable Gods send to mortals, went on unreasoning and invincible, surviving the test of disillusion, defying the disenchantment that lurks in every day of a strenuous life; went on full of love's delight and love's anguish, facing them in open-eyed exultation without bitterness and without repining, from the first hour to the last."

The Mirror of the Sea is a personal meditation on the sea and its meanings by one of the twentieth century's most important novelists.

When Joseph Conrad was discharged from the clipper Torrens in London during the summer of 1893, his seafaring career was over. He had travelled the world by then, risen in rank from apprentice to captain, survived shipwreck and turbulent seas. But, after nineteen years afloat he longed for the land, and wrote to his cousin of the "uniform grey of my existence." Once ashore, however, vivid memories of his past life began to surface. While steam and internal combustion were changing maritime travel forever, Conrad started to reflect on the voyages he had made in the Golden Age of Sail, the people and ships he had known, and the extraordinary communities whose lives, language, and very nature were shaped by the swells and silences of the open ocean.
Genres: