Mourners
Unabridged Audiobook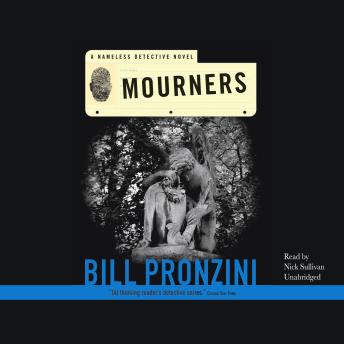 Duration:
7 hours 8 minutes
Summary:
Nameless had seen enough death inhis years; spending his time watching someone drive to several funerals a day,funerals for people he didn't know, was more than he could take. And he had anon-professional problem of his own: his relationship with his wife, Kerry, hadhit a wall, and nothing he did got him over it and to the other side. There wasone possibility, one thing he'd done (or not done), but knowing that didn'tseem to help. Also not helping was the mood in the office. Tamara had somethingeating at her and Jake, well, Jake needed a case so he could stop thinkingabout what was happening with his son. It was a mournful time for everyone.
Then the bits and pieces began tofall into place: The funerals James Troxell was attending were all for womenwho had died violently. Was he responsible? One woman thought Troxell hadkilled her sister, and her insistence was becoming a problem.
Too many deaths, too many roadsleading nowhere, too many crimes and secrets and fears were coming together asheavy as the fog rolling over the Bay. Too many answers were needed beforethere'd be sunshine again for anyone and the mourning could stop.
Genres: