Moving Foreword: Real Introductions to Totally Made-Up Books
Unabridged Audiobook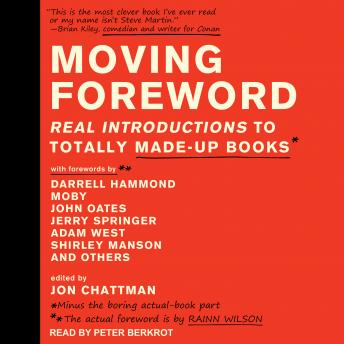 Duration:
6 hours 28 minutes
Summary:
A great foreword is more than just a few pages of self-indulgent frippery that comes before a book. A great foreword adds zest. It sets the stage for the page turner you're about to open, and perhaps even puts you in the locked room where a mystery happens or in the high-button shoes of a year gone by.

A great foreword-sometimes-is even better than the book it precedes.

So why not skip the boring actual-book part?

Moving Foreword is a collection of introductions to imaginary books, written by real celebrities, comedians, musicians, and other writers with something to say. With a real foreword by Rainn Wilson, this book offers a no-holds-barred cacophony of laugh-out-loud funny, poignant, and thought-provoking writing that tackles everything from politics to pop culture, true crime to trout fishing, and Star Wars to skin flicks.
Genres: