Murder, Stage Left: A Nero Wolfe Mystery
Unabridged Audiobook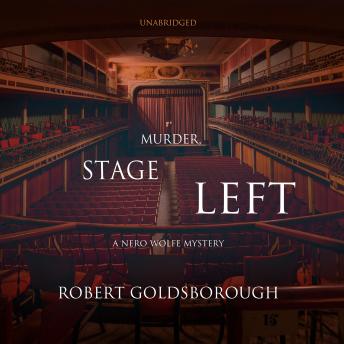 Duration:
6 hours 20 minutes
Summary:
It's curtains for a famous Broadway director, and private investigator Nero Wolfe is on the case-but his assistant, Archie Goodwin, is a suspect.
When a renowned theater director senses something amiss during his latest production, he calls in Nero Wolfe. Though the corpulent genius wouldn't normally accept a job this vague, a mutual friend dangles the prospect of a very rare orchid in exchange for his services, and Wolfe can't resist.
With a mind to suss out useful backstage gossip, Wolfe turns to his faithful assistant, Archie Goodwin, to impersonate a journalist in order to speak to the cast. Though Goodwin's conversations prove unfruitful, on his last day at the theater, the director is murdered in his sound-proof booth, poisoned by an unseen culprit during an evening performance. In short order, an actor whose health is failing attempts suicide with the same poison.
Now Archie Goodwin is a prime suspect in the director's demise, effectively sidelining him for the rest of the case, and freelance gumshoe Saul Panzer must step in to help wrangle the various members of the play-from the ingenue and the diva to the handsome movie star and the surly stage manager-so that New York's smartest, and most reclusive, private detective can determine who is responsible for these dramatic deaths and clear Goodwin's name once and for all.
Continuing his beloved series, Nero Award-winning author Robert Goldsborough 'brings Nero Wolfe, late of Rex Stout, gloriously back to life' (Chicago magazine).
Murder, Stage Left is the fifty-ninth book in the Nero Wolfe Mysteries, but all stories can be enjoyed on their own.
Genres: