The Naked Duke
Unabridged Audiobook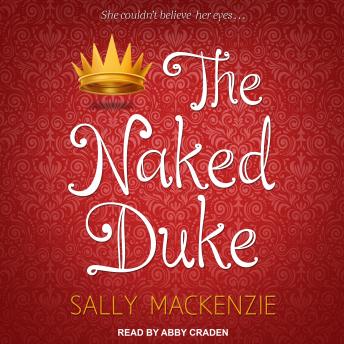 Duration:
8 hours 23 minutes
Summary:
For an American woman, a bad day of traveling turns into a compromising morning when she wakes up beside a naked nobleman in this Regency romance.

The Surprise of Her Life

Sophisticated. Scandalous. In fact, Miss Sarah Hamilton, a proper Philadelphian, finds London society altogether shocking. How can it be that she has awakened from her innocent slumber to find herself in bed next to a handsome-and exceedingly naked-man? The laughing onlookers standing in the doorway are no help whatsoever and surely this amorous lunatic cannot be a duke, as he claims. She is compromised-though she most certainly will not marry him!

The Sweetest Moment of His

James, the Duke of Alford, is enchanted by his unexpected bedmate-and not at all afraid of her pink-cheeked fury. True, the circumstances and place of their meeting are most unusual, but the spirited American who's pummeling him with a pillow is an incomparable beauty. If Sarah will only listen to his perfectly reasonable explanation, James is sure that he can capture her heart . . . forever.

Contains mature themes.
Genres: