Naughty 5: Too Naughty
Unabridged Audiobook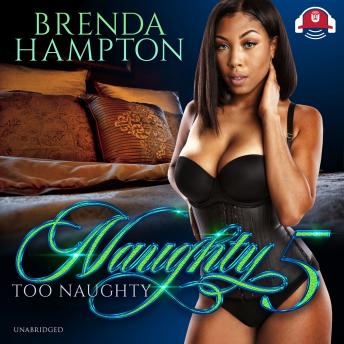 Duration:
10 hours 33 minutes
Summary:
The Sequel to Naughty by Nature burns with fire!!

Hampton's most loveable characters are back, and as usual, "It's about to be some sh** up in here!" Jaylin, Nokea, Shane, Scorpio, and let's not forget about Felicia, are determined to make this a story you'll never forget.

While Jaylin fights his battle to stay out of jail for giving Felicia a major beat-down, he also has to do what it takes to maintain his marriage to Nokea. This time, she's skeptical about standing by her man, and when she finds out that Scorpio and Jaylin can't quite keep their feelings under control, throwing in the towel just might be the best thing to do. Till death do us part, Jaylin confirms, as losing his wife is not an option. For everyone, Scorpio's cravings for the one man she'll never be able to conquer must come to an end. Shane continues to show her that he's the only man she needs, but will his efforts be enough? Of course, Felicia stands in the way of everyone's happiness-and satisfaction, to her, could possibly mean death.
Genres: