Never Kiss an Outlaw
Unabridged Audiobook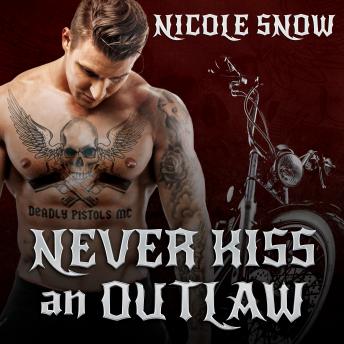 Duration:
8 hours 47 minutes
Summary:
Cora: Never kiss an outlaw, they said. Easy advice, until the day my father's dirty secrets made me property of the Deadly Pistols Motorcycle Club. Easy, until I came face-to-face with the beautiful bastard who makes me burn with every glance-Firefly.

Firefly: No more games. I cut Cora a hundred kinds of slack when she landed in my world, one that's too twisted for a sheltered spitfire.

I laughed at the sass and smears coming out of her mouth 'til the day the Prez made me her bodyguard. Then I put an end to her crap. I protected her. I laid down the law.

One raging kiss shut her up for good. Never expected what came next, this urge to rip off her clothes, throw her on my bike, and own her. Cora, she'll get my ink on her skin. She'll wear my ring and have my kids. I'm taking what's mine.

Contains mature themes.
Genres: