NFT (Non Fungible Tokens) Guide: Buying, Selling, Trading, Investing in Crypto Collectibles Art. Create Wealth and Build Assets: Or Become a NFT Digital Artist with Easy How to Instructions
A free trial credit cannot be used on this title.
Unabridged Audiobook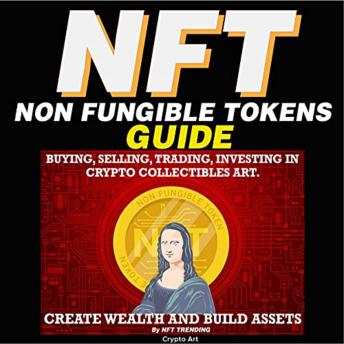 Duration:
3 hours 24 minutes
Summary:
Are you looking for ways to make money with NFTs but don't know where to start?

Do you want to learn how to start your own NFTs business, understand minting, learn how to buy or perhaps create and sell your own NFTs?

This book will show you how can do all the above. Keep reading....

The pandemic accelerated digital technological changes overnight. And so NFTs became a legitimate business with real trading.

'NFT market rages on: NFTs market cap grow 1,785 percent in 2021 as demand explodes.' - Forbes, 29 March 2021

The demand for NFTs is continuing to surge, and the NFT market is showing no signs of slowing down. A lot of people are making serious money. This book is about how and why NFTs are good for business and/or investment and how a newcomer to NFTs can get all the info needed in one place and get started immediately. You will discover how to invest, buy, sell, trade, or create your own NFTs for selling to investors or fans. It's also a book to change your perspective and will help you to start creating and selling your own NFTs, whether you're an artist, a gamer, musician, etc.

In this NFT guide you will learn:


- Meaning of non-fungible tokens
- How it fully works
- Future of NFT technology and assets
- How to make money with NFTS
- How to mint your own NFT
- How to buy and sell NFTS
- How to trade NFTS on different marketplaces
- How to start your NFT business as an artist

My goal is to assist you so that you can take advantage of these fantastic opportunities. If there is a time to ever enter the NFT economy, the time is now. Beeble became a $70 million-selling NFT artist. Who's next?

If you missed out on the popularity of cryptocurrencies, then you don't want to blunder this opportunity.

NFT Trending is the first NFT news website providing all the NFT business-related news. We are the experts. Furthermore, in this book, we provide information in easy-to-understand English language. This book guides you in a step-by-step process on all you need to know about NFTs in one handy guide.

Get this audiobook now!
Genres: