No More Codependency, Healthy Detachment Strategies To Break The Patterns, Discover How To Stop Struggling With Codependent Relationships, Obsessive Jealousy And Narcissistic Abuse
Unabridged Audiobook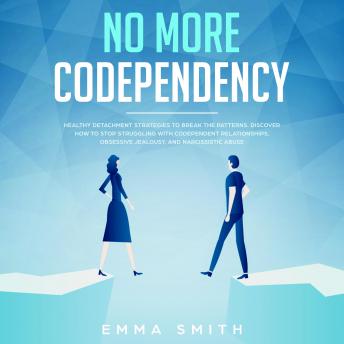 Duration:
3 hours 17 minutes
Summary:
Do you constantly seek approval and feel hurt whenever your efforts are not recognized? Will you do anything and everything to preserve a relationship? Are you afraid of being alone and unloved? Then you need to keep reading…
Here's a short preview of what you'll discover:
• The EXACT formula for recognizing if you are in a codependent relationship (even if you're still in a state of denial).
• Why it's possible to love a person too much and risk losing yourself in a relationship.
• The expert-backed methods for increasing self-awareness and building your self-esteem.
• How to effectively overcome unnecessary guilt and intense jealousy without having to consult a professional.
• The tried and tested ways to set clear, healthy boundaries that work to your advantage.
• Why personal space, self-care, and healthy detachment are non-negotiables in any relationship.
• The little-known destructive habits that you need to quit NOW for your mental health and physical safety.
• How to BREAK FREE from persistent and damaging relationships once and for all (even if you think you can't live without that person).
And much, much more…
By relying on the step-by-step plan in this book, you can heal from harmful relationships, achieve lasting self-respect, and replace codependency with life-affirming relationships.
If you want to unlock access to this potent information about relationships and emotional healing, then you should purchase this book!
Genres: