No Time for Goodbye
Unabridged Audiobook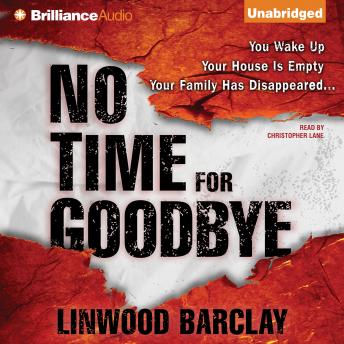 Duration:
10 hours 54 minutes
Summary:
The house was deathly quiet. That was the first sign that something was terribly wrong. Fourteen-year-old Cynthia Bigge woke that morning to find herself alone. Her family—mother, father, and brother—had vanished without a word, without a note, without a trace. Twenty-five years later, Cynthia is still looking for answers. Now she is about to learn the devastating truth

Cynthia and Terry Archer still live in Milford, Connecticut, not far from the old Bigge house on Hickory Street. With a solid marriage and a young daughter, the Archers seem on track for a successful future. But the questions raised by Cynthia's past still haunt her, and her obsession to find the answers threatens to destroy everything they've worked for. For Cynthia, there can be no closure until she finds out why her family disappeared—and how they could have left her behind.

Terry thinks the segment on the popular TV crime-stopper program Deadline is a mistake. But his wife hopes that someone watching will have a lead to her missing family. Sure enough, it's Cynthia who spots the strange car cruising the neighborhood, hears the untraceable phone calls, and discovers the ominous "gifts." And as Cynthia's nerves begin to unravel, no one's innocence is guaranteed, not even her own. By the time the first body is found, it's clear that her past is more of a mystery than she ever imagined—or may ever survive.

Someone has returned to this Connecticut town to finish what was started twenty-five years ago. And by the time Terry and Cynthia discover the killer's shocking identity, it will be too late even for goodbye.
Genres:
1 of 1 people found this review helpful.