No Turning Back
Unabridged Audiobook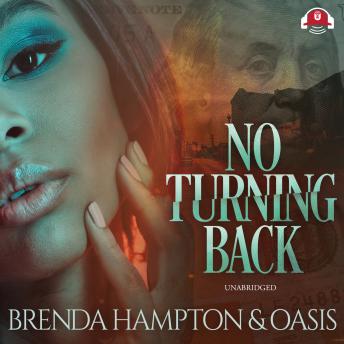 Duration:
7 hours 50 minutes
Summary:
A crippled economy changes Lola Jones' silver-spoon status to copper and threatens to rip her sheltered family from the upper echelons of society, dropping them into the rotten bowels of East St. Louis. Only one thing can save Lola's children from the claws of poverty, and that comes in the form of a million-dollar life insurance policy. It is, however, just a useless piece of paper unless she's dead. With that in mind, Lola vows to make the ultimate sacrifice for her children's well-being.

There are two problems—she doesn't have the guts to kill herself, and her insurance doesn't pay out on suicides. With only days left before her family learns the true meaning of homelessness, Lola turns to Blasé, a desensitized hit man with a "no turning back" policy, to execute her murder. To foot Blasé's upfront bill, Lola seeks prostitution. It's not long before the hole she's dug gets deeper.

Living on the erotic edge leads her to an unforgettable sexual encounter with Mannish Major, a lonely married man with skeletons swinging in his closet. Their tryst explodes into a full-blown love affair that renews Lola's will to live. But not even a budding romance will cancel the expiration date Blasé has set on Lola's soul. Now Lola and Mannish must make a final and desperate attempt to stop the hit man, or else they will die trying.
Genres: