Nothing But Net: 10 Timeless Stock-Picking Lessons from One of Wall Street's Top Tech Analysts
Unabridged Audiobook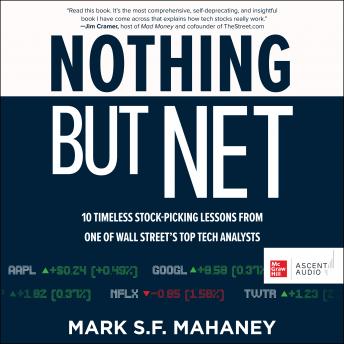 Duration:
10 hours 32 minutes
Summary:
The Tech industry is the stock market's hottest, most profitable sector, but it can be a roller coaster ride. Companies with great ideas can end up going nowhere, and some that dominate today will be sold at fire-sale prices in five years. 'Sure things' can become 'sore things' very rapidly. Nothing But Net provides the knowledge and insights you need to understand what's really hot, to know what's not, and to outperform other investors consistently and decisively.

Famous for his smart, savvy, and unique approach to Tech stock investing, Mark Mahaney provides his ten proven rules for succeeding as a long-term Tech stock investor-explaining everything he's learned during almost twenty-five years of analyzing internet stocks, including:

- Why revenue growth and customer metrics-not earnings-are what matter most to Tech investors

- How to invest-not trade-in the great growth opportunities that lie ahead

- How to determine when high valuations are a warning sign and when they signal an opportunity

Nothing But Net provides powerful advice for the next two decades-lessons you can start applying today and use for years to come.
Genres: