The Official Bright Line Eating Cookbook: Weight Loss Made Simple
Unabridged Audiobook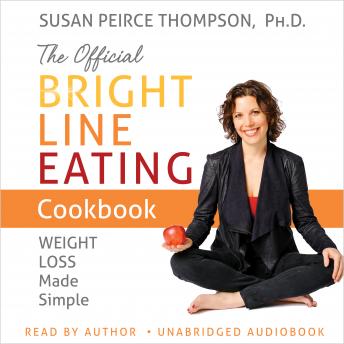 Duration:
3 hours 56 minutes
Summary:
Sustainable weight loss expert Susan Peirce Thompson builds on the success of her Bright Line Eating Boot Camps and best-selling book with: The Official Bright Line Eating Cookbook!
The Official Bright Line Eating Cookbook is designed to help readers transition to this transformative way of life as smoothly and solidly as possible. The first book gave explicit instructions as to what the guidelines for each meal are, but no specific suggestions as to what to actually cook. This book provides recipes, as well as tons of tips, tricks, and tools culled directly from the Bright Line Eating community, the 'Bright Lifers' themselves!


Because Bright Line Eating is unlike any food program out there, this cookbook will be unlike any seen before. It's broken down by warm bowls, cold bowls, and plates. There will be a large section on salad dressings--because Bright Lifers live and die by their dressing! Note: there will not be any 'cheat' foods, because those foods keep addiction alive in the brain, slow weight loss, and leave you vulnerable to old habits.



This audio product contains a PDF with supporting material, and the PDF is available to download.
Genres: