One in a Million
Unabridged Audiobook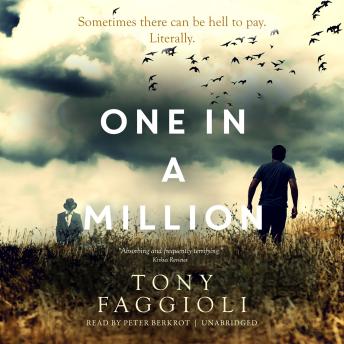 Duration:
10 hours 48 minutes
Summary:
Kyle Fasano has it all: a loving wife, two children, and a house on the hill. Still, for one night it's not enough. Risking everything, he has a fling with a woman from the office. He knows better, but she offers a simple temptation.

Napoleon Villa has very little: no real family, no real home. A veteran detective for the LAPD, he is a gray wolf in an ever-darkening world. When the call comes in that a young woman has plummeted to her death at the Los Angeles Hilton, it seems like just another case.

Both men are running from something, and both are on a collision course. Fleeing his affair at the Hilton, Kyle runs into a stranger dressed in gray and possessed of heavenly powers. He tells Kyle something he never expected to hear: to save his soul, Kyle must prevent his first love-whom he hasn't seen in over twenty years-from making the same mistake he has. For Napoleon, it all comes down to a case long closed, but forever open in his mind: that of a child murderer he failed to stop in time.

Now, pursued by a detective with nothing to lose, Kyle Fasano, with everything to lose, is about to learn that with every choice there are consequences. And sometimes there can be hell to pay-literally.
Genres: