Options Trading Crash Course: Discover the Secrets of a Successful Trader and Make Money by Investing in Options. Start Creating Your Passive Income Today With Powerful Strategies for Beginners
A free trial credit cannot be used on this title.
Unabridged Audiobook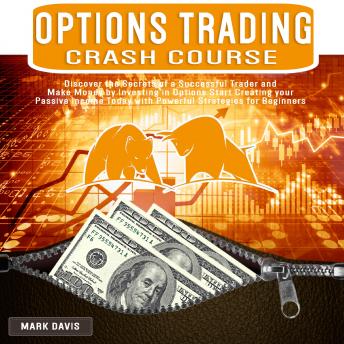 Duration:
3 hours 49 minutes
Summary:
Are you tired of having to work for others?

Are you looking for a second income because your salary is not enough?

Or do you feel the need to find a job that allows you to travel the world and work wherever and whenever you want?

If you answered 'Yes' to at least one of these questions, then keep reading...


Many traders have completely changed their lives thanks to options trading, an investment methodology with great potential that allows you to earn money by investing in options.


Why have they succeeded while so many other people have failed?

What do all the biggest option traders have in common?

By listening this audiobook you will have the answer to all these questions with practical examples, techniques, methodologies and powerful tips that have taken thousands of people from losing money to being profitable traders.


Here's what you'll find out:

✅The true strength of an options trader

✅All you need to know about options trading to get started

✅The most profitable markets for an option trader

✅The Secrets of a perfect technical and fundamental analysis

✅Winning options trading strategies

✅The best platforms for options trading

✅Powerful insight of Money and risks management

And much more…


Even if you don't know anything about options trading, don't worry; this book was written with the intent of giving you thorough knowledge on the topic, along with all the necessary means to start operating independently and make profits.

If you have read up to this point, you are definitely a determined person, ready to act as a professional trader to live the life you have always dreamed of. Don't waste time, click on 'Buy Now'!
Genres: