Outlaw's Vow
Unabridged Audiobook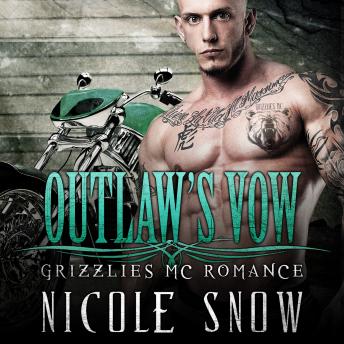 Duration:
7 hours 28 minutes
Summary:
Elle Jo: Forget the flowers and tender kisses. I'm marrying a man who took a bullet for me tomorrow, and I don't have a choice.

Did I say he's an outlaw? Asphalt has slayed more men on the road and taken more women between the sheets than I can ever count. He's arrogant and savage. So, why the hell can't I keep my lips off his when he gives me that smirk and whispers filthy things in my ear?

Asphalt: She thinks it's pretend, and club business is the only reason I'm slapping my brand on her skin. What a damned joke.

Elle got away from me years ago. Never again. I'm putting her where she belongs the second I hear 'kiss the bride.' Yeah, I told my brothers I'd go along with this sham marriage to save the Grizzlies MC. They don't know how bad I need her.

This isn't pretend anymore. The good-girl act won't save her this time. I'm keeping my bride.Contains mature themes.
Genres: