Passive Income Ideas: A Comprehensive Guide to Building Multiple Streams of Income Through Digital World and Offline Businesses to Gain the Financial Freedom
Unabridged Audiobook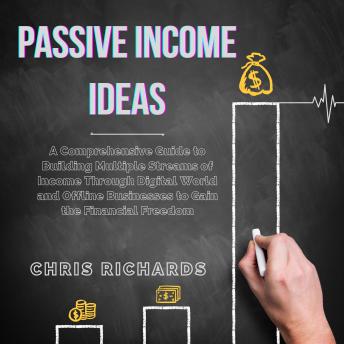 Duration:
1 hours 59 minutes
Summary:
Is Quitting your job, making more money and becoming financially independent your lifetime dream? Do you want to know whether passive income is real and attainable for everyone, even you? Then you just found the right audio book for you!
Chris Richards will guide you toward this goal through a systematic blueprint to show you that financial freedom is definitely achievable for everybody. However, be aware that starting a passive income business do require huge work and effort, especially at the beginning. Therefore, if you feel like putting yourself out there and want to improve your learning curve, this book will be an amazing resource, as you will discover:
• How to Say 'goodbye' to your 9-5, and eliminate your money stresses and fears
• How to determine a passive income choice depending on your own strengths and weaknesses;
• How to determine future trends in the market and how to use them for your businesses;
• How to promote and market your business effectively in the different online sectors;
• How to set up your mind-set in the best way to get financial freedom
• The biggest mistakes to avoid in your journey to achieving financial freedom;
• And much more!
What are you waiting for? If you want to start your journey toward the financial freedom, buy the audio book now!
Genres: