Phineas and Ferb Chapter Book Box Set (Books 1-3): Speed Demons, Runaway Hit, and Wild Surprise
Unabridged Audiobook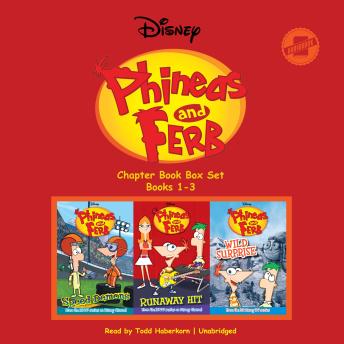 Duration:
3 hours 25 minutes
Summary:
School's out for the summer, and stepbrothers Phineas and Ferb decide to make each day an adventure! This box set contains the first three books in the bestselling Phineas and Ferb chapter book series: Speed Demons, Runaway Hit, and Wild Surprise. Perfect for fans of the hilarious hit show!

Phineas and Ferb #1: Speed Demons

It's summer vacation for Phineas and Ferb, and they have a lot to do! First, they fix up their mom's car and enter the Swamp-Oil 500 at the speedway. Then, they build a wild roller coaster with more surprises than you can imagine-including snakes! With all this racing around, who has time to be bored?

Phineas and Ferb #2: Runaway Hit

?Phineas and Ferb's sister, Candace, is determined to be the next Super American Pop Teen Idol Star. But her plans for fame are foiled when Phineas and Ferb hit the stage with their band. Then Candace's dream of becoming a famous movie star turns into a nightmare when Phineas and Ferb are chosen to direct her in her breakout role. Will she ever best her brothers at their own game?

Phineas and Ferb #3: Wild Surprise

Phineas and Ferb know that when you want to make every day count, birthdays are the perfect excuse to do something extra wild! Determined to top their efforts for Candace's birthday last year, they plan a gift of mountainous proportions. Then, they almost miss their mom's birthday! But at the last minute, they cook up a surprise that any parent would love.
Genres: