Positive Affirmations: 10 in 1 Bundle: Everyday 'I Am' Affirmations for Success, Self Esteem, Weight Loss, Addiction, Deep Sleep, Anxiety, Sex, Narcissism, Self Love, Wealth and Happiness
Unabridged Audiobook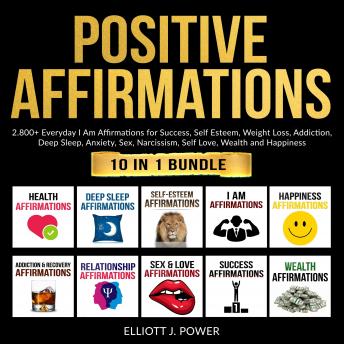 Duration:
5 hours 11 minutes
Summary:
Are you someone who thrives on motivational quotes and affirmations?Do you find that a daily dose is enough to get you enthused and ready to face any challenge?What better way to start your day than with this book?As humans, we face challenges every day. In times gone by they were usually simple and revolved around a daily struggle for survival. But as we entered the modern era we found that the challenges we faced were multiplied and we are often perched precariously on the edge between failure and success. But just a few simple words, each day, from someone who has walked your path, can make all the difference.

This audiobook, Positive Affirmations, provides an amazing value 10 in 1 bundle, that gives you a lot of affirmations for every eventuality and will help you to:

• Follow your dreams and find success

• Develop your self-esteem and self-confidence

• Lose the excess weight you have gained

• Battle against addictions of every kind

• Fight anxiety, stress and other mental conditions

• Find solutions to a stagnant sex life

• Beat co-dependency and other damaging traits

• Find the wealth and happiness you deserve

Covering every conceivable topic that you may care to experience in life, Positive Affirmations is an audiobook like no other in existence and is the only book you will ever need when it comes to finding the motivation to succeed.

With its 10 amazing books, all in one place, it will help you through any difficult moment of your life.

Scroll up and get your copy now!
Genres: