Pride v. Prejudice
Unabridged Audiobook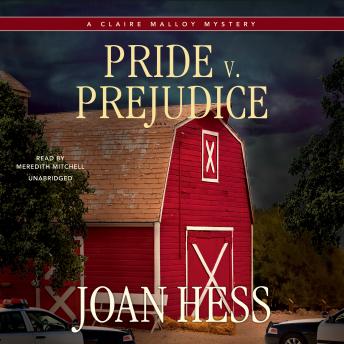 Duration:
9 hours 10 minutes
Summary:
Semiretired bookseller and former single parent to a challengingteen, the not-so-newly remarried Claire Malloy finds herself entangled in yetanother case of felonious doings in this latest cozy.
Claire Malloy, for as long as she can remember, has been thelocal bookseller and owner of the Book Depot and the widowed mother of teenageCaron, who frequently speaks in "all caps." But her life has changed dramaticallyin recent years. Claire has married her longtime beau, Deputy Police ChiefPeter Rosen. Still the owner of the Book Depot, Claire has passed theday-to-day running of it on to her very efficient employees. With Caron inchingever closer to college, there's but one thing that remains steadfastlyunchanged-Claire's astonishing ability to attract, find, or even just randomlystumble across trouble.
Summoned for jury duty, Claire is humiliated when theprosecutor, harboring a grudge against her husband, dismisses her in aspectacular enough fashion to make the local news. As a result, Claire decides revengewill be the next dish she serves. She hunts down the defendant in the case, awoman accused of murdering her husband, and offers to help prove her innocence.And not just because Claire wants to humiliate the prosecutor. There are onlytwo problems: One, the defendant is looking guiltier by the minute. Two, theworst day imaginable has finally come-Claire's dreaded new mother-in-law iscoming to visit, and life in prison is starting to look good.
Genres: