Profit first: Ein einfaches System, jedwedes Unternehmen von einem kapitalfressenden Monster in eine Geldmaschine zu verwandeln
Unabridged Audiobook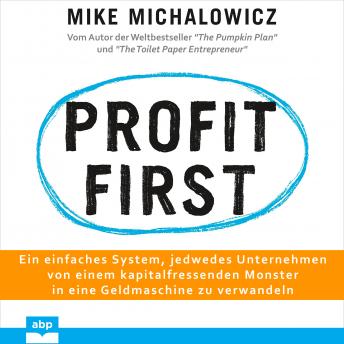 Duration:
8 hours 39 minutes
Language:
German
Summary:
'Das bahnbrechende Werk vom Autor der Weltbestseller ''The Pumpkin Plan'' und ''The Toilet Paper Entrepreneur'' Mike Michalowicz.

Entgegen der herrschenden Meinung sind Unternehmer nicht per se reich. Mike Michalowicz stellt fest, dass viele Unternehmen eher unrentabel sind und viele Selbständige selbst und ständig arbeiten - und so, dass sie kaum davon leben können.

Die konventionelle Buchhaltung verwendet die logische (wenn auch fehlerhafte) Formel: Umsatz - Aufwand = Gewinn. Das Problem ist, dass Unternehmen von Menschen geführt werden und Menschen nicht immer logisch sind.

«Profit First» liefert ein einfaches und überwältigend effektives Buchhaltungssystem, das jedes Unternehmen von einer Geldvernichtungsmaschine zu einer Geldmaschine machen kann.

In diesem Hörbuch erfahren wir:

- Das Befolgen von 4 einfachen Grundsätzen kann die Buchhaltung und die Verwaltung eines profitablen Geschäfts vereinfachen.

- Ein kleines, profitables Unternehmen kann viel mehr wert sein als ein großes Unternehmen, das unter dem Strich überlebt.

- Es gibt einfache Cash-Management-Lösung, die den kleinen Unternehmen dabei helfen kann, eine sofortige Rentabilität zu erreichen.

- Unternehmen, die frühzeitig und nachhaltig rentabel sind, haben eine bessere Chance, langfristiges Wachstum zu erzielen.

Mike Michalowicz gründete und verkaufte zwei Unternehmen in der Größenordnung von mehreren Millionen und ist Mitbegründer des Beratungsunternehmens Provendus Group. Michalowicz hat mehrere Bücher verfasst und schreibt regelmäßig in The Wall Street Journal, Harvard Business Review und Inc. Als Redner spricht er weltweit zu Unternehmensthemen – zum Beispiel bei eBay, TED Talks und creativeLIVE.

Die Originalausgabe erschien unter dem Titel: "Profit First: Transform Your Business from a Cash-Eating Monster to a Money-Making Machine".
Genres: