PSI National Real Estate License Exam Prep 2020-2021: A Study Guide with 550 Test Questions and Answers Explanations (Includes Practice Tests for Brokers and Salespersons)
A free trial credit cannot be used on this title.
Unabridged Audiobook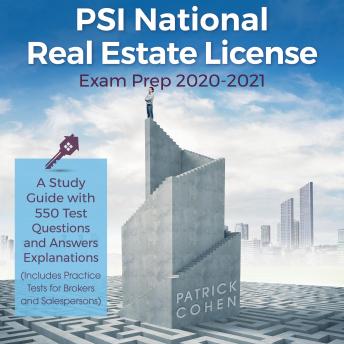 Duration:
5 hours 44 minutes
Summary:
The golden key to acing the exam on your very first try...


Are you nervous about your upcoming exam and can feel the pressure building already?


Have you heard the stories of how people sometimes take this test two, three, or even four times?


Or maybe, you're feeling confident with everything but simply want to find a resource that allows you to house it all in one simple, easily accessible location...


Whatever the case may be, know that this exam doesn't have to be the "end all be all" of this stressful situation. In fact, it can even be a fun and empowering process.


The PSI National Real Estate Exam is an extensive and all-encompassing ordeal that will certainly challenge you, but it will also help you grow and become even better at what you do.


In PSI National Real Estate Exam Prep 2020-2021, you'll discover:



- A play-by-play guide to establishing your plan of action prior to taking the exam itself
- The most comprehensive set of study questions available, giving you more diversity in your studies
- Detailed explanations for why each answer is the correct one, expanding your awareness of the information itself
- Groundbreakingly similar practice exams to the test itself that will help you to prepare in ways otherwise unattainable


… and so much more!


Whether this is your first go at it, or your 3rd (or 4th), with this guide by your side, it will certainly be your last.


If you're ready to take your stress levels down a notch and streamline the entire exam prep process, then you need this audiobook today!
Genres: