Psycho USA: Famous American Killers You Never Heard Of
Unabridged Audiobook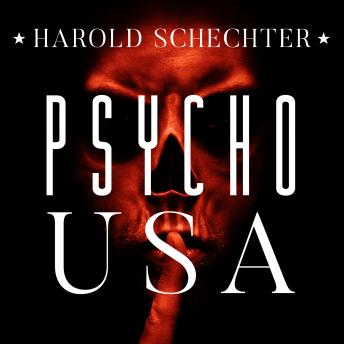 Duration:
14 hours 56 minutes
Summary:
In the horrifying annals of American crime, the infamous names of brutal killers such as Bundy, Dahmer, Gacy, and Berkowitz are writ large in the imaginations of a public both horrified and hypnotized by their monstrous, murderous acts. But for every celebrity psychopath who's gotten ink for spilling blood, there's a bevy of all-but-forgotten homicidal fiends studding the bloody margins of U.S. history. In this book you'll meet

Robert Irwin, 'The Mad Sculptor': He longed to use his carving skills on the woman he loved but had to settle for making short work of her mother and sister instead.

Peter Robinson, 'The Tell-Tale Heart Killer': It took two days and four tries for him to finish off his victim but no time at all for keen-eyed cops to spot the fatal flaw in his floor plan.

Anton Probst, 'The Monster in the Shape of a Man': The ax-murdering immigrant's systematic slaughter of all eight members of a Pennsylvania farm family matched the savagery of the Manson murders a century later.

Edward H. Rulloff, 'The Man of Two Lives': A genuine Jekyll and Hyde, his brilliant scholarship disguised his bloodthirsty brutality.
Genres: