Purple Hibiscus
Unabridged Audiobook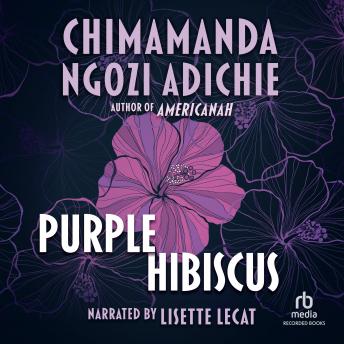 Duration:
11 hours 0 minutes
Summary:
Chimamanda Ngozi Adichie is a 2003 O Henry Prize winner, and was shortlisted for the 2002 Caine Prize for African Writing and the 2004 Orange Prize. In Purple Hibiscus, she recounts the story of a young Nigerian girl searching for freedom. Although her father is greatly respected within their community, 15-year-old Kambili knows a frighteningly strict and abusive side to this man. In many ways, she and her family lead a privileged life, but Kambili and her brother, Jaja, are often punished for failing to meet their father's expectations. After visiting her aunt and cousins, Kambili dreams of being part of a loving family. But a military coup brings new tension to Nigeria and her home, and Kambili wonders if her dreams will ever be fulfilled. Adichie's striking and poetic language reveals a land and a family full of strife, but fighting to survive. A rich narration by South African native Lisette Lecat perfectly complements this inspiring tale.
Genres:
1 of 1 people found this review helpful.

1 of 1 people found this review helpful.