A Question of Identity: A Chief Superintendent Simon Serrailler Mystery
Unabridged Audiobook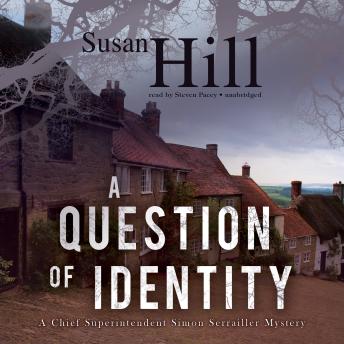 Duration:
10 hours 30 minutes
Summary:
Susan Hill-the Man Booker Prize nominee andwinner of the Whitbread, Somerset Maugham, and John Llewellyn Rhys awards-returnswith a gripping mystery "eagerly awaited by all aficionados" (P. D. James).
The particularly unpleasant murder of a very old woman in a housing project rocks the town of Lafferton. The murderer has left a distinctive "sign" on thebody and at the scene of the crime. A couple of weeks later, a similar murderoccurs, and a month or so later, so does another.
Initial investigationsreveal that the mysterious "sign" was the calling card of a suspect who wascharged with several murders in the northwest of the country, tried butacquitted on the grounds of insufficient evidence. All indications suggest thatthis person has simply vanished-or is he right under their noses? SimonSerrailler is obliged to delve deeper and scratch out answers in this addictivemystery of surpassing darkness by the bestselling Susan Hill.
Genres: