Quizzes for Married Couples: Fun Relationship Questions and Quizzes for Couples to Take Together
Unabridged Audiobook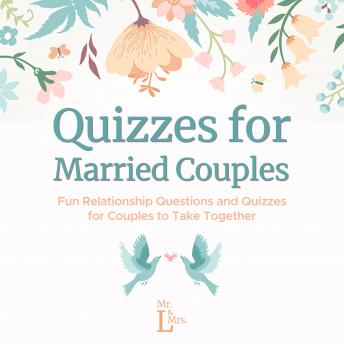 Duration:
1 hours 40 minutes
Summary:
Over 301 fun quiz questions to help you learn more about that stranger sleeping next to you!If you want a fun and entertaining way to further connect with your partner and strengthen your relationship, then you've come to the right place...

Marriage life can be quite the rollercoaster, but it is a journey well worth it! It may seem unbelievable, but even after years of marriage, there are still so many new things you can learn and find out about one another. Discovering unique random quirks, habits, and ideas will allow you to have fun conversations and build a stronger bond. It's also way more rewarding than sitting next to each other on the couch binge-watching a show or lying in bed next to each other scrolling on your phones!

Here's just a little of what you will discover inside "Quizzes for married couples"...


- Quickfire, warm-up questions to see how the two of you achieve that perfect balance of love and responsibility.
- Thought-provoking quizzes to help you navigate the difficulties life can throw at you together.
- A fun look at memories in the rearview mirror along with quizzes that look to the future.
- One word... intimacy. (This quiz section can get spicy!)
- 16 entertaining quiz topics (including hobbies, food & drinks, pets, traveling, and money) to keep you laughing and connecting.
- Bucket list questions for the couples that know it's never too late to get started and follow a dream.

... and much, much more.

This is a fun interactive listen for all couples!

Ready to get to quizzing and learning more about one another? Then download this audiobook now. 
Genres: