Reconstruction: America's Unfinished Revolution, 1863-1877
Unabridged Audiobook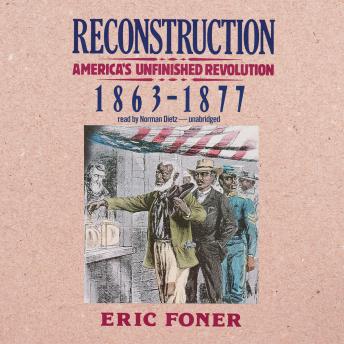 Duration:
30 hours 48 minutes
Summary:
The period following the Civil War was one of the most controversial eras in American history. This comprehensive account of the period captures the drama of those turbulent years that played such an important role in shaping modern America.

Eric Foner brilliantly chronicles how Americans, black and white, responded to the unprecedented changes unleashed by the Civil War and the end of slavery. He provides fresh insights on a host of other issues, including,

The ways in which the emancipated slave's quest for economic autonomy and equal citizenship shaped the political agenda of Reconstruction;The remodeling of Southern society and the place of planters, merchants, and small farmers within it;The evolution of racial attitudes and patterns of race relations;Abraham Lincoln's attitude toward Reconstruction;The role of "carpet-baggers" and "scalawags;" andThe role of violence in the period.This "smart book of enormous strengths" (Boston Globe) has become the classic work on the wrenching post-Civil War period, an era whose legacy reverberates in the United States to this day.
Genres: