Remarkable Creatures: Epic Adventures in the Search for the Origins of Species
Unabridged Audiobook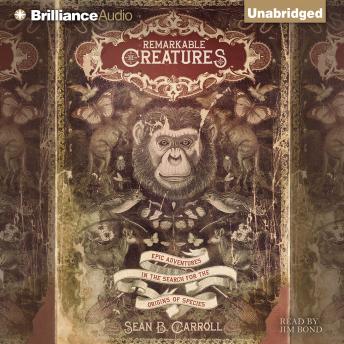 Duration:
9 hours 39 minutes
Summary:
Just 150 years ago, most of our world was an unexplored wilderness. Our sense of its age was vastly off the mark. And what we believed to be the history of our own species consisted of fantastic myths and fairy tales; fossils, known for millennia, were seen as the bones of dragons and other imagined creatures. How did we learn so much so quickly? Remarkable Creatures celebrates the pioneers who replaced our fancies with the even more remarkable real story of how our world evolved.

Inspired by Humboldt, the first group we meet — Darwin, Wallace, and Bates — returned from their explorations with the makings of the theory of evolution. The second group undertook expeditions that produced some of the most spectacular finds in paleontology: Eugene Dubois uncovered Java Man, the first claimed missing link between apes and humans; Charles Walcott located pre-Cambrian life in the Grand Canyon and Cambrian life in the Burgess Shale; and Roy Chapman Andrews unearthed dinosaur eggs in the Gobi desert of Mongolia. The discovery of the kinship of dinosaurs and birds and the emergence of the "fishapod" formed more links in the evolutionary chain, as did the work of Louis and Mary Leakey, who for five decades searched for our deepest past in East Africa. The final section of the book moves into the laboratory and the future, following the trailblazers who discovered a time clock in our DNA and extracted ancient DNA from extinct species.

Join Carroll and his cast of naturalists for a rousing voyage through the most dramatic adventures and important discoveries in two centuries of natural history.
Genres: