Rookie
Unabridged Audiobook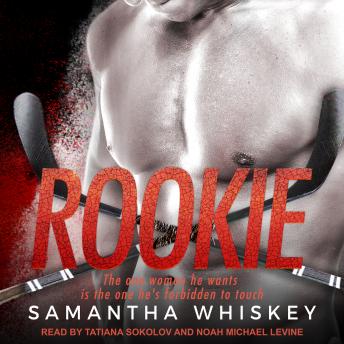 Duration:
5 hours 8 minutes
Summary:
As a rookie, keeping up with the Seattle Sharks' starting trio is grueling work.

Trying to pretend like the Sharks' new, totally-off-limits physical therapist doesn't make me ache? Impossible.

Because she isn't just anyone.

Once upon a time, Chloe was mine.

Until she broke my heart.

Now she's back in my life and Coach has forbidden any of us from pursuing her.

One look and my heart begs to claim her.

One touch and I'm on fire.

Her past is riddled with darkness and it doesn't matter if she wants me, too.

We can't happen.

Because we both desperately need our jobs.

But I can't deny the heat between us, and the more time I spend with her, the more I realize she never left my heart.

As the tension coils between us, I find myself closer to losing control.

Closer to throwing everything I've ever worked for away . . . and taking a taste of the forbidden.

With my contract up for negotiation, I refuse to be sent back to the minors-not in hockey or with Chloe. This time it's all or nothing.

Contains mature themes.
Genres: