The Savage Tales of Solomon Kane
Unabridged Audiobook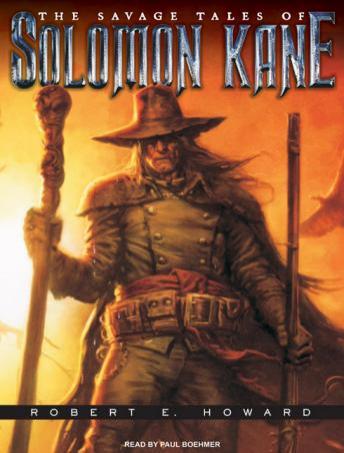 Duration:
12 hours 30 minutes
Summary:
With Conan the Cimmerian, Robert E. Howard created more than the greatest action hero of the twentieth century-he also launched a genre that came to be known as sword and sorcery. But Conan was not the first archetypal adventurer to spring from Howard's fertile imagination.

He was...a strange blending of Puritan and Cavalier, with a touch of the ancient philosopher, and more than a touch of the pagan.... A hunger in his soul drove him on and on, an urge to right all wrongs, protect all weaker things.... Wayward and restless as the wind, he was consistent in only one respect-he was true to his ideals of justice and right. Such was Solomon Kane.

Collected in this volume are all of the stories that make up the thrilling saga of the dour and deadly Puritan: 'Skulls in the Stars,' 'The Right Hand of Doom,' 'Red Shadows,' 'Rattle of Bones,' 'The Castle of the Devil,' 'Death's Black Riders,' 'The Moon of Skulls,' 'The One Black Stain,' 'The Blue Flame of Vengeance,' 'The Hills of the Dead,' 'Hawk of Basti,' 'The Return of Sir Richard Grenville,' 'Wings in the Night,' 'The Footfalls Within,' 'The Children of Asshur,' and 'Solomon Kane's Homecoming.'
Genres:
1 of 1 people found this review helpful.