The Scars That Define Us
Unabridged Audiobook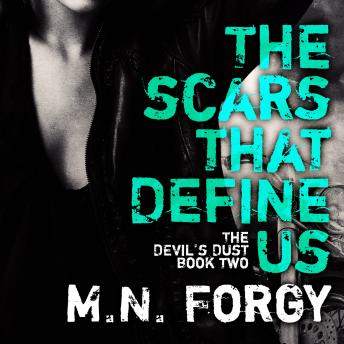 Duration:
8 hours 3 minutes
Summary:
The Devil's Dust MC has a list of new threats to the club's lifestyle. Dani, to prove her loyalty, is trying to embrace a part of herself that she never knew existed until now. A sinful beast lurking beneath her surface has been awakened and is ready to eliminate anyone that stands in its way. Looking at her stained hands, she rinses the blood from them. She resigns herself to innocence lost and welcomes her thirst for more blood.

After a breathtaking turn of events, Shadow is looking at life in a different perspective. Not knowing who he can trust or who he can forgive has left him feeling desolate and alone. As Shadow is laying behind his rifle, he wonders if he can pull the trigger to eliminate the threat. He takes a deep breath and squeezes the trigger, the rifle recoil ignites the fuel that drives him.

Retaliations will be required.

Boundaries will be shattered.

Redemption will be lost.

Betrayal so deep, yet they still yearn for one another. Can Shadow overlook Dani's transgressions? Can Dani overlook the mistrust that Shadow has placed upon her?
Genres: