Serving Up a Sweetheart: A February Wedding Story
Unabridged Audiobook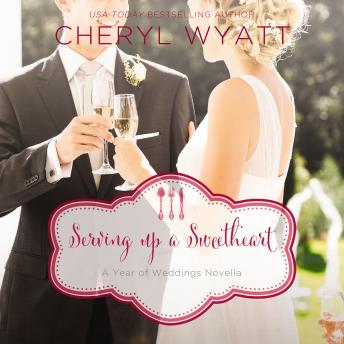 Duration:
3 hours 3 minutes
Summary:
They've helped orchestrate the perfect day for countless couples. Now twelve new couples will find themselves in the wedding spotlight in the second Year of Weddings novella collection.

Renovation contractor Colin McGrath can't see someone in need and walk away.Which is precisely why, when a winter storm damages his new neighbor's in-home catering kitchen, he offers his construction skills to fix it, even though he knows he is the last person his former classmate would accept help from. After all, he was part of a series of high school pranks that nearly ruined Meadow Larson's life.

Meadow realizes she's having the mother of all Mondays the instant her roof caves induring from a once-in-a-century blizzard, right before the most important wedding contract of her career. Her day continues to deteriorate when she realizes the only person available to bail her out in time is the last man on Earth she can bear to be vulnerable to again. But tough times—and God—have a way of changing hearts for the better, and the more she gets to know and trust the new Colin, the more she realizes God may have something more permanent in store than a new catering kitchen.
Genres: