Sex Stories Bundle: The Complete Erotica Sex Stories for Adults Collection
A free trial credit cannot be used on this title.
Unabridged Audiobook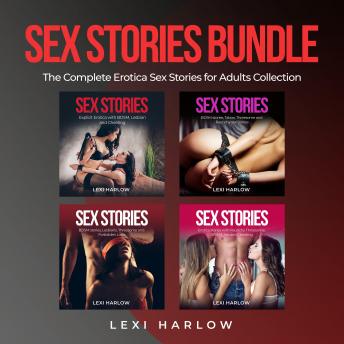 Duration:
11 hours 23 minutes
Summary:
Calling all fans of audio erotica romance, this is the master collection you've been looking for!This collection includes the 4 books in the Forbidden Rose-series and it really has it all: BDSM, taboos and forbidden lust, threesomes, lesbians, ass, cheating, and raunchy sex stories.Looking for BDSM? We've got lots of BDSM in this one! Fans of Fifty Shades and less pedestrian stuff will find what they're looking for in these stories of bondage, sadism, masochism, and other naughty situations that'll make your grandmother blush.

Looking for threesomes and other forbidden lusts? This collection is full of older guys, preachers, and professors just waiting to disrobe for you. Satisfy your polyamorous fantasies, get freaky with the priest, and more!

This collection has lesbian erotic romance stories that will appeal to fans of Meghan O'Brien and Sarah Waters as beautiful women explore the possibilities of sex and romance without a single man in sight.

Those who need a little caught in the act action, or a little spurned lover's vindication, will find exactly what they're looking for in this collection's erotic cheaters stories.

This collection also goes where some erotic romances don't: the ass! If you're looking for sexy anal erotica, look no further! We've got just what you ordered.

These stories aren't just sex scenes, either! Those details are all there in graphic detail, we promise, but there's substance here as well. Come meet relatable characters and enjoy full featured plots, all delivered by our velvety voiced narrator who would like to invite you to break out the wine, get comfy, and hit play. This collection is steamy, sensual, and explicit. No holes barred!

Scroll up and buy this amazing collection of the kinkiest erotica stories you can imagine.

Warning: This book contains explicit sex scenes intended for mature audiences. 
Genres:
1 of 1 people found this review helpful.