Simply Managing: What Managers Do—and Can Do Better
Unabridged Audiobook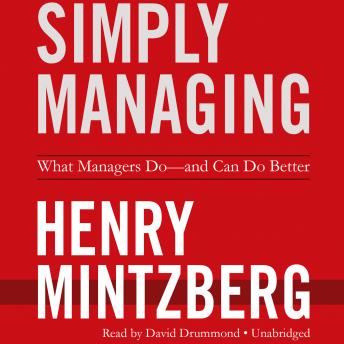 Duration:
5 hours 1 minutes
Summary:
In 2009 HenryMintzberg's Managing was named one ofthe best books of the year by Strategy+Businessand Library Journal, thenumber two business book of the year by the TorontoGlobe and Mail, one of the top ten academic titles by Choice magazine, and the management book of the year in acompetition organized by the Chartered Management Institute in association withthe British Library.
So this is clearly abook every manager should read. But one of the issues Mintzberg addresses isthe frenetic pace and relentless pressures of the job-most managers hardly havetime to think. So Mintzberg has done some revising and some updating and hasdistilled the essence of his original book into a lean, action-oriented shortenedversion.
The core of the bookremains the same: Mintzberg's observations of twenty-nine different managers,from business, government, and nonprofits, working in diverse settings rangingfrom a refugee camp to a symphony orchestra. What he saw led him to develop anew model of management, one firmly grounded in his conclusion that it is not aprofession or a science. "It is a practice," he writes, "learned primarilythrough experience and rooted in context."
But context cannotbe seen in the usual way. Factors such as national culture, level in ahierarchy, and even personal style turn out to have a far differentinfluence-sometimes much less-than we have traditionally thought. Mintzbergalso offers a compelling discussion of some of the inescapable conundrums ofmanaging. How can you get in deep when there is so much pressure to get itdone? How can you manage it when you can't reliably measure it? How do youbalance the need for change with the need for continuity?
He concludes with aprovocative look at what being an effective manager really means, which hedescribes as "engaging management." This is the most authoritative andrevealing book yet written about what managers do, how they do it, and how theycan have the greatest impact.
Genres: