Sin City Outlaws MC Box Set
Unabridged Audiobook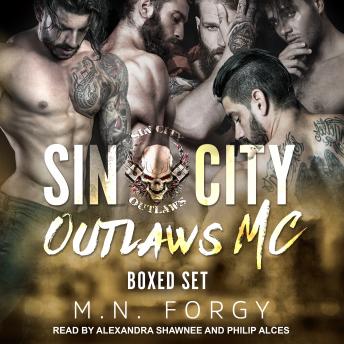 Duration:
38 hours 15 minutes
Summary:
Reign: As the president of the Sin City Outlaw Motorcycle Club, I screw as hard as I ride and rarely go to bed alone. I was a king until one gorgeous sheriff made everything fall apart. And now . . . we're both screwed.

Mercy: I fell for a law abiding Sheriff, breaking my vows to my own club, and turning her against her family. An outlaw and a sheriff, it can only end in one way . . . Mayhem.

Retaliate: I wasn't expecting my president to put me on babysitting duty, and on a female cop of all people. Alessandra pretends to be the good-guy hiding behind that shiny badge. But I see the darkness dancing in her eyes, and it draws me to her in the worst way.

Illicit: Raven is my club's prisoner. I've been ordered to break her. My desire for her is forbidden. And if the wage of my sin is death, then this woman is going to get me killed.

Bloodlines: I'm Mac, the Intel guy of the Sin City Outlaws motorcycle club. Simone Ray walks into my life with sad brown eyes, beautiful lips, and pregnant with a child that could possibly share the same bloodline of a fallen brother's. Falling in love with a woman and a child that's not even mine was the last thing I saw happening.

Contains mature themes.
Genres: