Social Skills: How to Analyze People and Body Language Instantly, Handle Small Talk and Conversation as an Introvert, Improve Emotional Intelligence, and Learn Highly Effective Communication Tips
A free trial credit cannot be used on this title.
Unabridged Audiobook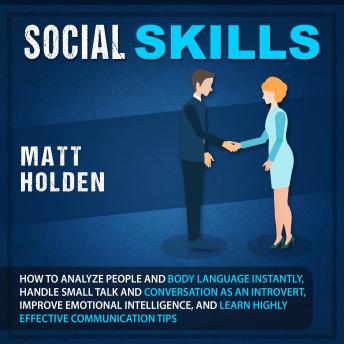 Duration:
2 hours 59 minutes
Summary:
If you want the kind of social intelligence that will allow you to succeed in any social situation, then pay attention…Would you like to discover how some people can seem to fit in anywhere?

Are you curious to discover the one thing you should never do at a party with your coworkers?

Do you want to master the art of small talk and learn how to win people over?

If so, then you've come to the right place.

You see, developing great social skills doesn't have to be difficult.

Even if you feel that you've tried all the tips and tricks out there.

In fact, it's easier than you think, even you're an introvert. Studies suggest that up to half the population in the United States are introverts and if you think all of them are bad socially, then think again!

Here's just a tiny fraction of what you'll discover:


- How to deal with social anxiety
- The one thing that's probably holding you back from developing excellent social skills and how to overcome it
- Introvert traits and common myths about introverts
- How to analyze people and their body language
- Face reading
- The four personality types
- How to detect a liar
- How to make body language your superpower
- Handling small talk as an introvert
- Common problems introverts face in relationships and how to overcome them
- Introvert problems in an open workplace and how to overcome them
- Introvert problems at social gatherings, events, and parties and ways to deal with them
- 4 ways to improve your emotional intelligence
- Practical communication tips
- And, much much more!

And if you have a burning desire to analyze your co-workers and talk with confidence because of your social skills, then scroll up and click "add to cart".
Genres: