Someone Always Knows
Unabridged Audiobook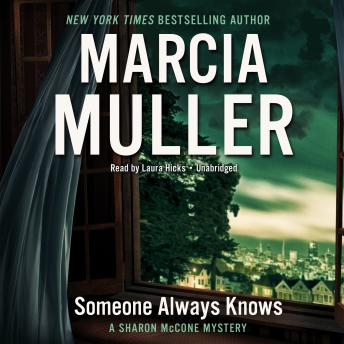 Duration:
7 hours 6 minutes
Summary:
Missing bearer bonds, a family tragedy, arson, andmurder-it's all in a day's work for Sharon McCone in the new series installmentfrom bestselling author Marcia Muller.
Settled into their new home after they lost theirhouse in a fire and fully established in their new shared offices, privateinvestigator Sharon McCone and her business partner husband Hy are finallystarting to feel comfortable. That calm is shattered when Hy's former colleagueGage Renshaw-a shady troublemaker who they presumed dead-reappears, and it'sunclear what he wants from his prosperous former associate.
Meanwhile, Sharon has a new client with a desire toget rid of the derelict house that's disturbing the local homeowners'association. However, the abandoned house holds its share of secrets, and soonSharon is contending with more than a simple eyesore as she searches for theindividual who is obsessed with destroying her life.
Genres: