The Speed of Souls: A Novel for Dog Lovers
Unabridged Audiobook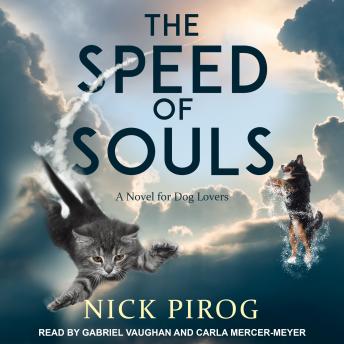 Duration:
7 hours 43 minutes
Summary:
Hugo was a dog. He died. Now he's a kitten. As Hugo adjusts to his new body (not just a cat-a baby cat!), his new home (San Francisco), his new outside (Where are the mountains? Where is the lake?), and his sudden urge to sit in every box he sees, he wonders if he'll ever see Cassie or Jerry again.

Back in Lake Tahoe, Cassie and Jerry attempt to come to grips with life without Hugo. Cassie fills the void with 'Tadpole Guard,' 'Worm Patrol,' and ups her protection of Jerry (her human), who is in the midst of a cataclysmic midlife crisis. In addition to his dog dying, Jerry's last two books have been monumental flops, and he's still reeling from his fiancee leaving him for another man. As if these problems aren't enough, his parents (who have become late-stage hippies) are coming to live with him for the entire summer.

And so begins the journey of three souls, intertwined by love, loss, and perhaps something even greater. Told with Nick Pirog's charm and razor sharp wit, The Speed of Souls is at once a hilarious, moving, and transcendent work of storytelling.
Genres: